Check out how Washington, DC is welcoming world-class sports, entertainment, cultural and hospitality events to its diverse venues throughout the city.
The nation's capital is a premier destination for sports spectators with a robust local athletic community. Its sports and entertainment venues are versatile and exciting, whether it is the newly opened Audi Field and The Arena or Nationals Park and Capital One Arena. DC's facilities are flexible for any sporting event – be it e-sports, squash, or CrossFit®️.
Northwest DC
Capital One Arena
Located in the Chinatown/Penn Quarter neighborhood, Capital One Arena is home to the AFL's Washington Valor, NBA's Washington Wizards, NHL's Washington Capitals and the NCAA's Georgetown Hoyas's Men's Basketball Team. In addition to world-class sporting events, the 20,000-seat arena offers concerts, family shows, trade shows and special events.
Events at Capital One Arena:
2016 Atlantic Coast Conference (ACC) Men's Basketball Tournament (March 8-12, 2016), which returns to DC in 2021
2017 Big Ten Conference Men's Basketball Tournament (March 8-12, 2017)
2018 Atlantic 10 Men's Basketball Tournament (March 7-11, 2018), which returns to DC in 2022
2019 NCAA Men's East Regional Championship (Sweet 16 & Elite 8) (March 29-31, 2019)
Hugh Jackman – 1

st

 solo musical tour (July 1, 2019)
WWE Live: SummerSlam Heatwave Tour (July 6, 2019)
Squash on Fire
Squash On Fire is a world-class, membership-free squash facility located in downtown DC. The facility features eight courts, a locker room with showers, treadmills and stationary bikes for warming up, an in-house restaurant and bar and a pro store, so the boutique gym has the luxe amenities of a traditional club.
Events at Squash on Fire:
World Squash Federation Men's World Team Championship (Dec. 14-21, 2019)
Walter E. Washington Convention Center
The Walter E. Washington Convention Center is as functional as it is artistically impressive. The 2.3-million-square-foot space hosts meetings, conventions and events of every kind, from medical industry annual meetings to comic book-inspired expos and board retreats. You can mold all 703,000 square feet of exhibition space inside the convention center into whatever shape you need. Within its two levels and five exhibit halls is a 473,000 square-foot exhibit hall that can be subdivided into three rooms, 198,000 square feet of flexible meeting space, a 52,000 square-foot ballroom and 77 breakout rooms.
In addition to meetings and convents, special events at the Walter E. Washington Convention Center include:
National Book Festival (Annual event hosted in the summer)
Washington Auto Show (Annual event hosted in the winter)
2018 MLB All-Star Game FanFest (July 13-17, 2018)
Capitol Hill Volleyball Classic (Feb. 15-17, 2019)
Pokémon World Championships (Aug. 16-18, 2019)
Southeast DC
DC Armory
The DC Armory, located east of the U.S. Capitol building, can host conventions, circuses and inaugural balls as well as concerts, expos, sporting events and trade shows. The Armory can be adapted to audiences from 10 to 10,000 people and its interior features nearly 70,000 square feet of exhibition space. The Armory is the home of the DC National Guard and the DC Rollergirls, a female flat-track roller derby league.
Events at the DC Armory:
Marine Corps Marathon Expo (Annual event hosted in October)
Boxing: Luis Ortiz vs. Tony Thompson (March 5, 2016)
Boxing: Adrien Broner vs. Ashley Theophane (April 1, 2016)
Mid Atlantic CrossFit Challenge (April 12-14, 2019)
Title IX Holiday Invitational Conference and Classic (Annual event hosted in December)
Nationals Park
Nationals Park is in the Capitol Riverfront neighborhood in Southeast DC. Nats Park is more than just a baseball stadium – it is one of the largest venues in DC, boasting the ability to accommodate approximately 40 to 40,000 guests. On non-game days, attendees can access exclusive spaces such as the field, clubhouse and dugouts. Meeting attendees can try their hand at batting practice in the Nationals' cages or compete with the Racing Presidents on the warning track, a fan-favorite.
Their indoor club spaces and conference center are perfect for a business meeting, fundraising gala, convention party or social event. With 55,000+ square feet in 14 indoor spaces and 250,000+ square feet in eight outdoor spaces, Nationals Park one of DC's most flexible venues.
Events at Nationals Park:
IPW Closing Ceremony (June 7, 2017)
2018 MLB All-Star Game (July 17, 2018)
Spartan Race: Stadion Series (May 2019)
RFK Stadium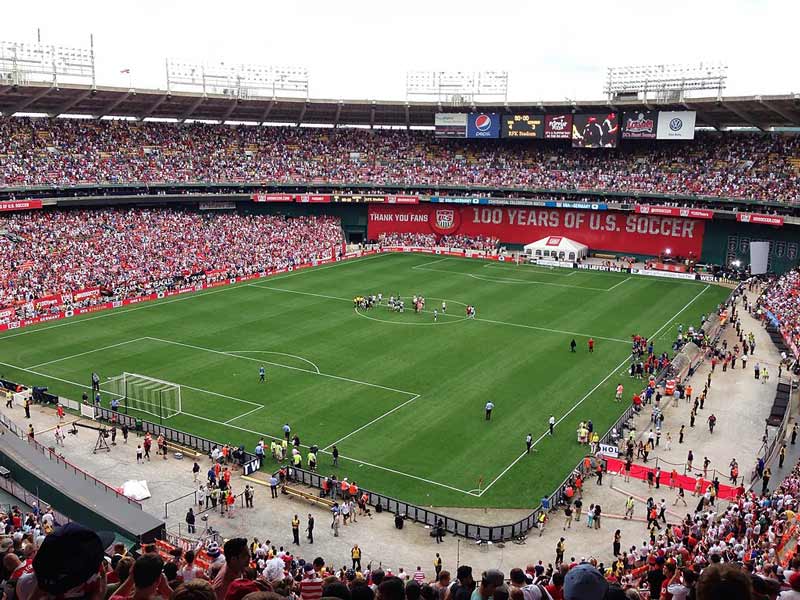 International soccer match at Robert F. Kennedy Memorial Stadium - Sports events at RFK Stadium in Washington, DC
Robert F. Kennedy Memorial Stadium, the historic DC sports venue that has entertained spectators with its crowd-pleasing sightlines since 1961, is affectionately known as "RFK" around the globe. The home turf for professional, collegiate and high school games during its history, RFK was the first major stadium designed specifically as a multisport facility for both football and baseball. Construction on the stadium began in September 2018 to reimagine the 190-acre campus and transform the fields of nearly 27 acres of asphalt into three new state-of-the-art artificial turf fields with community amenities. The $32 million five short-term program elements are part of restoring the Campus as one of the District's original sports and entertainment corridors in the city. The fields open in June 2019 and the RFK Campus redevelopment project will continue over the next two to five years including a market hall, three pedestrian bridges and more.
Music fans have also been thrilled by performances under the stars at RFK by artists such as Elton John, the Rolling Stones, Stevie Wonder, U2, the Eagles and the Grateful Dead.
Events at RFK Stadium:
2015 World Police & Fire Games Opening Ceremony (June 26, 2015)
USA Rugby: Wales vs. South Africa (June 2, 2018)
International Friendly: Peru vs. El Salvador (March 26, 2019)
Events DC High School Football Kickoff Classic (Annual event hosted in September)
Festival Grounds at RFK Stadium
Situated along the Anacostia River, the RFK Stadium Festival Grounds has hosted several popular sporting events and music festivals.
Major events held there include the Rock 'n' Roll USA Marathon and ShamrockFest. The Rock 'n' Roll USA Marathon is the only marathon run entirely in Washington, DC and features local bands as well as a celebratory finish line festival on the festival grounds. ShamrockFest, one of the largest St. Patrick's Day festivals held in the Mid-Atlantic region, features over 50 bands and DJ's on 10 stages as well as food and beverages, carnival rides and more.
Events at Festival Grounds:
Red Bull Global Rally Cross (July 29-30, 2016)
Rock 'n' Roll USA Marathon (March 9, 2019)
ShamrockFest (March 23, 2019)
Wanderlust 108 Yoga (Sept. 28, 2019)
Entertainment and Sports Arena
The new state-of-the-art home to Washington, DC's WNBA Washington Mystics, located in Congress Heights, also hosts the NBA G League Capital City Go-Go, exhilarating concerts, pounding boxing matches and thrilling e-sports tournaments. It opened in September 2018. The 118,000-square foot, 4,200-seat facility is open year-round and prepped to host your next tournament, as well as your next concert or prize fight. Advanced arena WiFi is capable of pushing gigabits of data per second throughout the venue, making it a prime hub for DC's e-sports community while intimate seating allows fans to get a prime view of the boxing ring during an MMA match. The venue is operated and managed by Events DC, the District's convention and sports authority.
Events at Entertainment and Sports Arena:
Professional Fighters League Semi-Finals (Oct. 20, 2018)
Red Bull Conquest (Nov. 16-17, 2018)
Events DC Holiday Hoops Fest (Dec. 22, 2018)   
Colonial Athletic Association (CAA) Men's Basketball Tournament (2020-2022)
Southwest DC
Audi Field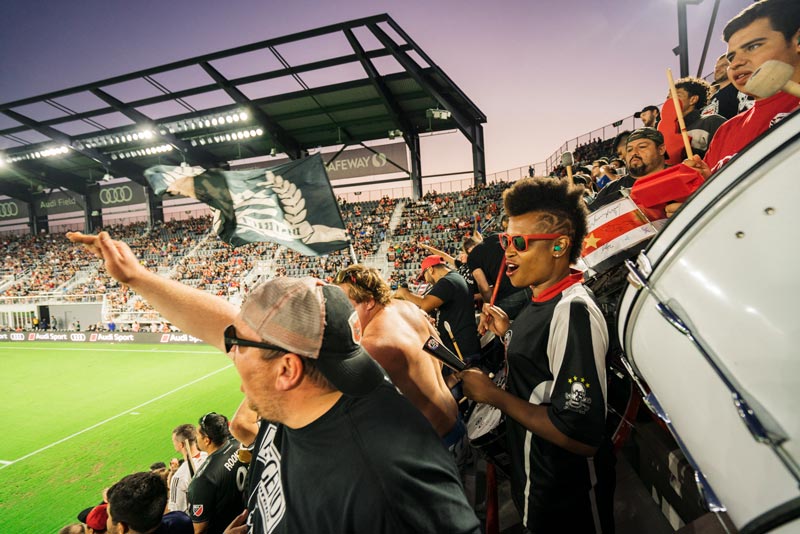 Audi Field, located in Buzzard Point in Southwest DC is home to D.C. United, the most championed professional team in the Washington, DC. The state-of-the-art stadium, which opened in July 2018, hosts a variety of other sporting and cultural events, community activities and concerts. The capacity holds 20,000 fans, and also has 31 luxury suites, a bike valet, and 500,000 total square feet of mixed-use retail and residential space on site.
Events at Audi Field:
U.S. Mens National Soccer Team vs. Jamaica National Soccer Team (June 5, 2019)
Toronto Football Club (FC) vs. DC United (June 29, 2019)
Premier Lacrosse League (July 7, 2019)