Live and virtual events, plus a stay-inside guide for DC music, videos and more for May 14-16
Friday
Visit reopened DC museums
Many of DC's most beloved museums will reopen their doors this May, with capacity limits, timed tickets and safety policies in place. This Friday's reopenings include the National Museum of African American History and Culture, the National Portrait Gallery, the Smithsonian American Art Museum and its Renwick Gallery, and the National Gallery of Art. Check out our What's Open page to see what other DC locales you can visit this month.
 
Passport DC @Home
The beloved tradition of Passport DC returns as a virtual event this year. Through May 31, the program highlights DC's international and diplomatic community through live and pre-recorded activities delivered by embassies, restaurants and cultural institutions. You can learn about international culture through programs and presentations that will focus on history, the humanities, the performing and visual arts, concerts, author talks, cooking demonstrations and much more. All programs are free to enjoy.
 
Capitol Riverfront Spring Drive-In Movie Series
The Stacks in Buzzard Point will host the Capitol Riverfront BID's six-week drive-in movie series, which offers four screenings in the month of May. The contact-free experience will feature space for 100 vehicles at a cost of $20 per car, per movie. All funds will be donated to local charities, including DC Central Kitchen, Unity Health Care, Living Classrooms and the Capital Area Food Bank. Oh, you'd like to know the movies? Catch Remember the Titans his Friday, Booksmart on May 21 and Bridesmaids on May 28.
Screenings begin at 8 p.m. |  Tickets
The Stacks, 101 V Street SW, Washington, DC 20003
 
Midnight at The Never Get
Stream this scintillating performance from Signature Theatre Company, which takes place in New York City circa 1965. Trevor, a cabaret singer, is in love with his songwriter, Arthur. With their relationship forbidden, the duo takes to the back room of an illegal Greenwich Village gay bar to create The Never Get. The Off-Broadway musical offers whimsical tunes and a powerful love story.  You can purchase a ticket and stream the show on-demand through the Marquee TV app through June 21.
Tickets
 
Saturday
Visit the reopened National Building Museum
After a 16-month hiatus, the National Building Museum, including its Great Hall and gift shop, has reopened to the public. You will be able to check out new and timely exhibits when you re-enter the museum, including Justice is Beauty: The Work of MASS Design Group and Alan Karchmer: The Architects' Photographer, as well as the museum's Gun Violence Memorial Project. Public programs will still be held virtually and the PLAY WORK BUILD exhibit will remain temporarily closed. The museum will follow all of DC's COVID-19 safety guidelines.
Friday - Sunday, 11 a.m. - 4 p.m. |  Tickets & Safety Information
National Building Museum, 401 F Street NW, Washington, DC 20001
 
Spring Makers Market
Dumbarton House will host this market for local vendors on its grounds with capacity limits in place. Chances are, you've done a ton of online shopping over the past year. Pick this May Saturday to enjoy the beautiful estate at Dumbarton House and check out an array of home goods, jewelry and much more. Outdoor shopping and supporting local businesses – now that's a solid spring day. Make sure to register beforehand. Masks are required and social distancing will be enforced.
10 a.m. – 4 p.m. |  Register
Dumbarton House, 2715 Q Street NW, Washington, DC 20007
 
Virtual Yoga from the Garden
The U.S. Botanic Garden's weekly yoga class continues virtually throughout the month thanks to WithLoveDC. Although the class usually rakes place in-person inside the Garden's Conservatory, this online version features a live yoga instructor guiding you through a one-hour meditation and yoga practice. Pre-registration is required, but all classes are free to attend.
Register
 
George Washington Whiskey Tasting
Sample whiskey and other distilled spirits in the Colonial style at George Washington's Mount Vernon, a wondrous way to spend a Saturday afternoon in spring (tastings are available every Saturday this month). This rare opportunity to try Mount Vernon's unique spirits takes place at the distillery and gristmill on the estate, an area you can tour during your visit. Choose three out of five spirits offered to sample and learn distilling methods and techniques along the way. Make sure to review Mount Vernon's safety protocols before your visit.
Tickets
George Washington's Mount Vernon, 3200 Mount Vernon Memorial Highway, Mount Vernon, VA 22121
 
Renewal 2121
In the face of the COVID-19 pandemic and rising concerns over climate change, this installation at ARTECHOUSE transports you 100 years into the future. You'll be immersed in an industrial city where nature is combating the onslaught of an overreaching metropolis, a stark warning if mankind continues at its current pace. Hope is found through cherry blossoms peeking through neon lights, showing the way for those ready to take action. Renewal 2121 is an original ARTECHOUSE production and was inspired by DC's illustrious cherry blossom season. Use the 'Tickets' link below for a special 10% discount.
Monday – Thursday: 12-8 p.m. |  Friday – Sunday: 10 a.m. – 10 p.m. | Tickets
Safety guidelines
ARTECHOUSE, 1238 Maryland Avenue SW, Washington, DC 20024
Sunday
Animal Wisdom
Woolly Mammoth Theatre Company teamed up with American Conservatory Theater to present this special on-demand performance of Heather Christian's "one-of-a-kind opus". Animal Wisdom is a sort of musical séance, a film that allows singer/songwriter/soothsayer Heather Christian to lay to rest the souls that haunt her. She shifts shapes from rock star to priestess to folklorist, a riveting performance that digs into family mythology and the notion of ghosts. Streaming begins this Saturday, but you can purchase tickets now.
Tickets
 
Virtual Baking with Buttercream's Tiffany MacIsaac
One of DC's most popular bakers, Tiffany MacIsaac, will show you, step-by-step, the art of crafting a delicious shortcake with berries during this virtual event. MacIsaac will unveil the technique she uses at Buttercream Bake Shop thanks to New Endeavors by Women, which works to assist women in DC who have experienced homelessness. All proceeds will go to the local organization. Make sure to grab your ingredients beforehand!
3-4:30 p.m. |  Tickets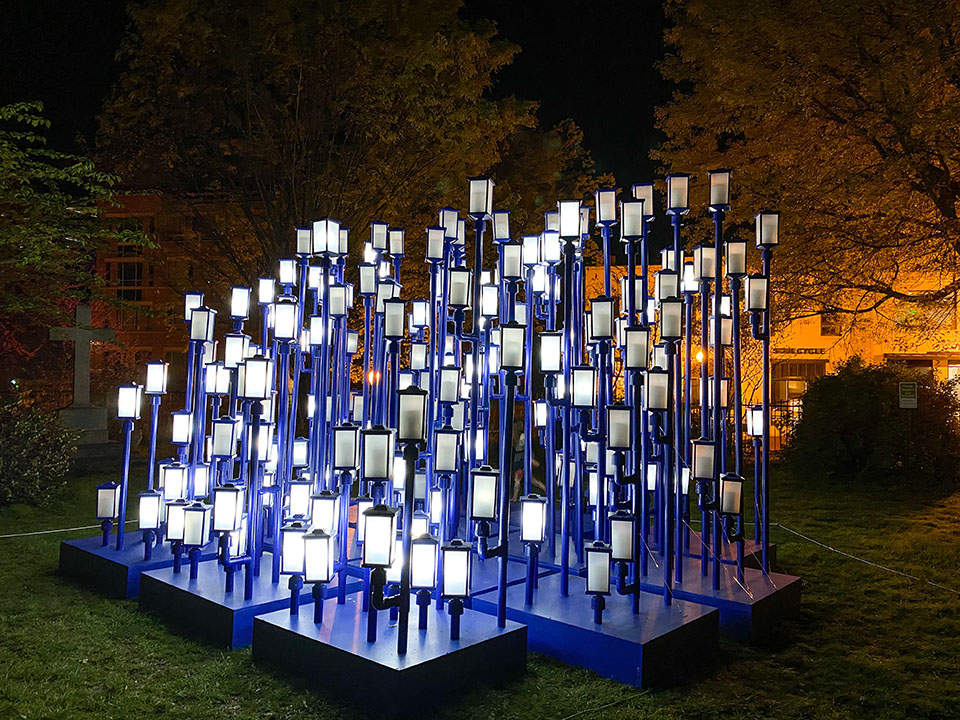 Georgetown GLOW: Spring Edition
After the 2020 edition was postponed due to the COVID-19 crisis, Georgetown GLOW has returned with a two-part series of outdoor installations, with the first lighting up DC's most historic neighborhood through June 27. The region's only free, curated, outdoor public light experience will be open to all both day and night, and you can read up on the spring edition's artists and installations (there are five in total) on Georgetown GLOW's official website. Mark your calendar of the summer edition as well, slated to run from July 2 – Sept. 26.
More info
 
Experience The Capital Wheel
Soar 180 feet in the air on the area's only observation wheel, which spins right on the National Harbor's majestic waterfront. The Capital Wheel features 42 climate-controlled gondola cars that seat up to eight and circle every day and night of the year, providing stunning views of Alexandria, Va., DC's monuments and the Potomac River. Sunset rides are particularly scenic. Use code VISITDC for a 10% discount on tickets through Dec. 31, 2021.
Monday – Thursday, 4-8 p.m. |  Friday – Sunday, 12-8 p.m. |  Tickets
The Capital Wheel at National Harbor, 141 American Way, National Harbor, MD 20745
#DCtogether Photo of the Week
 

Make sure to share your DC photos with us using #DCtogether, and we may feature yours next month!