Our end-of-the-week picks for Jan. 27-29
We've gathered up some fun things to do in DC this weekend. You can also read what else is going on during the week and throughout the month.

Looking for a local perspective delivered directly to your inbox every two weeks? Sign up for our "DC on the Go-Go" Local Newsletter to stay in the know.
Friday
Washington Auto Show
The world-class event displays engineering prowess and innovation along with more than 600 new models from 30+ car manufacturers inside the Walter E. Washington Convention Center. Interactive displays and on-site activations add to the fascination of this motor vehicle showcase that runs through Sunday.
Tickets
Walter E. Washington Convention Center, 801 Mount Vernon Place NW, Washington, DC 20001
Ride the Cyclone
Six teen chamber choir singers are tragically killed in a freak roller coaster accident. Stuck in the afterlife, a mechanical fortuneteller gives them a chance to sing their way back to earth. Ride the Cyclone is a quirky and edgy musical that blends humor, tragedy and enchantment.
Tickets
Arena Stage, 1101 6th Street SW, Washington, DC 20024
Tom Papa
When you check out Tom Papa live at the Kennedy Center, take in the observational comedy of the highest order. The stand-up legend moves from exasperation to amusement without missing a beat. With more than 25 years of experience and numerous stand-up specials to his name, expect a memorable night filled with laughs.
8 p.m. |  Tickets
The John F. Kennedy Center for the Performing Arts, 2700 F Street NW, Washington, DC 20566
NSO Pops: An Evening with Ne-Yo
Three-time Grammy Award®–winning singer, songwriter and producer Ne-Yo treats the Kennedy Center's Concert Hall to his greatest hits in collaboration with the National Symphony Orchestra and its conductor, Steven Reineke. Ne-Yo has sold more than 10 million albums worldwide, making these two nights a unique opportunity to see a chart-topping artist present his songs in an entirely new context.
8 p.m. |  Tickets
The John F. Kennedy Center for the Performing Arts, 2700 F Street NW, Washington, DC 20566
Saturday
A Collector's Eye: Freer in Egypt
From 1906-1909, Charles Lang Freer acquired a wide range of Egyptian art works, including the renowned Washington Codex—one of the oldest Bibles in the world—a digital copy of which will be on view in the Freer Gallery of Art as part of this special exhibit. Visitors can also expect to see New Kingdom Egyptian glass vessels, a Byzantine jewelry set, amulets and hundreds of beads, many of which will be on display for the first time.
10 a.m. – 5:30 p.m. |  Free Admission
National Museum of Asian Art, 1050 Independence Avenue SW, Washington, DC 20560
Intangible Forms
The new laser-powered experience at ARTECHOUSE aims to inspire you to find interconnectedness. Enter a meditative soundscape inspired by Shinto Shrines, offering the opportunity to pause and exist outside of normal space and time. Powered by choreographed kinetic lasers, strobes, haze and moving lights, you will travel through multiple rooms of installations and an entrancing environment created by hypnotic and modular rhythms. Use the 'Tickets' link below for a special 10% discount!
Monday – Thursday: 1-9 p.m. | Friday – Sunday: 10 a.m. – 10 p.m. |  Tickets
ARTECHOUSE, 1238 Maryland Avenue SW, Washington, DC 20024
Go ice skating in DC
DC's year-round temps are pretty moderate, but during the winter – when cold Canadian winds whistle down the Potomac and Anacostia rivers – Washingtonians bundle up for a day (or a night) on the ice. Public ice skating rinks can be found in multiple neighborhoods in DC proper, so check out the best places to hit the ice in the nation's capital.
Shen Yun
China was once known as the Middle Kingdom, and Shen Yun will bring this ancient world to life through dance, an orchestra and incredible backdrops. All these elements come together to reveal 5,000 years of awe-inspiring Chinese stories and history. Discover new dimensions, powerful heritage and historical wisdom in this jaw-dropping series of performances.
Tickets
The John F. Kennedy Center for the Performing Arts, 2700 F Street NW, Washington, DC 20566
The Lifespan of a Fact
DC's Keegan Theatre presents a brand new play about one Jim Fingal, a Harvard graduate who works as a fact checker for a failing New York-based magazine, and one Jim D'Agata, an essay writer who has penned a piece that could save said magazine. When fact checking Jim is assigned to review writer Jim's essay about the suicide of a teenage boy, the two come into conflict in a gripping, dramatic and comedic battle over fact vs. fiction.
Tickets
Keegan Theatre, 1742 Church Street NW, Washington, DC 20036
Sunday
This Is Britain: Photographs from the 1970s and 1980s
Britain experienced profound changes in the 1970s and 1980s, racked by deindustrialization, urban uprisings, the policies of Prime Minister Margaret Thatcher and the Troubles in Northern Ireland. Photography became a central form of creative expression during this period. The new exhibit at the National Gallery of Art brings together the work of a generation of essential photographers including Vanley Burke, Pogus Caesar, Anna Fox, Paul Graham, Sunil Gupta, Chris Killip, Sirkka-Liisa Konttinen and Martin Parr.
10 a.m. – 5 p.m. |  Free Admission
National Gallery of Art, 6th Street & Constitution Avenue NW, Washington, DC
Looking Up: Studies for Ceilings, 1550-1800
The National Gallery of Art presents dozens of examples of the evolution of ceiling decoration, including the baroque and neoclassical periods. Some works are vibrant early drawings and others are large-scale models that give a sense of the experience of the intended final composition. Studies of single motifs and individual figures reveal how these grand projects enticed viewers.
10 a.m. – 5 p.m. |  Free Admission
National Gallery of Art, 6th Street & Constitution Avenue NW, Washington, DC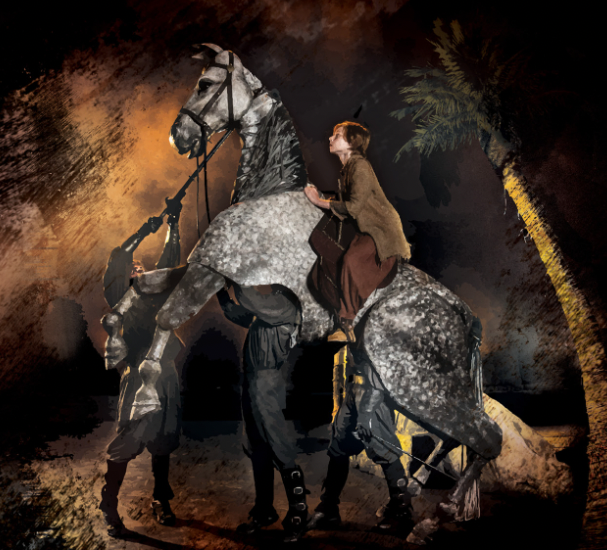 The Chronicles of Narnia: The Horse and His Boy
C. S. Lewis's beloved tale, The Horse and His Boy, comes to the Museum of the Bible's World Stage Theater. You don't want to miss the special production from the Logos Theatre that will include epic puppetry, beautiful sets and costumes and an inspiring story that will appeal to all ages.
Tickets
Museum of the Bible, 400 4th Street SW, Washington, DC 20024
An Italian Impressionist in Paris
The marvelous work of Italian Impressionist painter Giuseppe De Nittis (1846-1884) receives the exhibition treatment on U.S. soil for the first time at the Phillips Collection in DC this November. Although not well known outside of his home country, De Nittis' work has become essential to understanding the upheavals of 1870s Paris, as his urban tableaus showcased a cultured and economically successful city undergoing transformation. The exhibit will also present new research detailing the artist's friendships with Edgar Degas and Edouard Manet as well as his early collaborations in Naples with a young Gustave Caillebotte.
Hours & Admission
The Phillips Collection, 1600 21st Street NW, Washington, DC 20009
One with Eternity: Yayoi Kusama in the Hirshhorn Collection
The Hirshhorn has been collecting the prolific work of Yayoi Kusama since 1996. The museum's 2017 survey of her work traveled to five North American art museums, introducing Kusama's spellbinding visions to record audiences. Now, the Hirshhorn displays five of Kusama's works from the museum's permanent collection, including two of the artist's transcendent Infinity Mirror Rooms. One with Eternity: Yayoi Kusama in the Hirshhorn Collection is a tribute to the life and practice of the visionary artist. Next-day online ticket distribution is available. Visit the Hirshhorn's website for more information.
10 a.m. - 5:30 p.m. |  Free admission
Hirshhorn Museum & Sculpture Garden, Independence Avenue & 7th Street NW, Washington, DC 20560
 
#MyDCcool Photo of the Week
Do you know where you'll be dining pre- or post-event? From pop-up restaurants to Michelin-starred hot spots to laid-back food halls, our DC food guide is perfect for helping you plan a more memorable experience.