If you're headed to the nation's capital for a family vacation, this guide will provide green travel tips to reduce your environmental impact while having a memorable trip.
Being greener on vacation doesn't have to take a lot of extra planning or effort. Use these tips you to have a sustainable stay in Washington, DC.
01
Choose a more environmentally friendly form of travel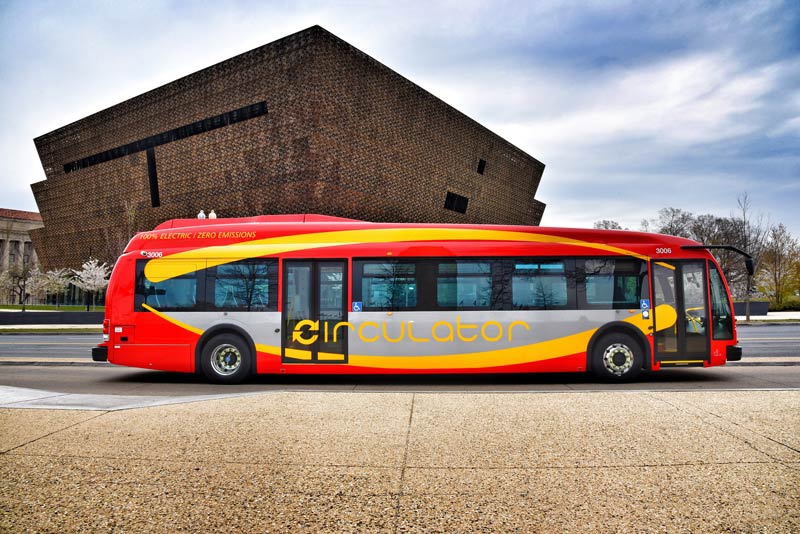 Eco-friendly, zero-emission DC Circulator bus in front of the Smithsonian NMAAHC museum on the National Mall in DC
Take the train or bus if you can. DC's Union Station receives roughly 40 million visitors per year. Its beautiful architecture, variety of shopping and dining options and status as one of the largest transportation hubs in the country make the station a popular transit option. Numerous transportation modes are available, including rail via Amtrak, which recently reduced its greenhouse gas emissions by 20%, which is equivalent to removing roughly 51,251 passenger vehicles from the road. Through several key initiatives like energy efficiency upgrades, improved train handling, and more efficient locomotives, Amtrak has reduced fuel and energy use year-over-year. Over the next decade, the company is targeting a further reduction to 40%. In fact, rail travel produces up to 83% fewer greenhouse gas emissions than driving and up to 73% fewer emissions than flying, making Amtrak the best option to shrink your travel carbon footprint. According to the 2021 U.S. Department of Energy Data Book, traveling by Amtrak is 46% more energy efficient than traveling by car and 34% more energy efficient than domestic air travel.

Once you arrive to Union Station, you can hop on DC's subway system, the Metrorail, with a dedicated Union Station stop serviced by the Red Line. The bus is equally as environmentally friendly, using significantly less fuel and exerting less carbon dioxide into the atmosphere than a plane. Choose from an array of options, including Megabus, Battle's Transportation and Vamoose.
02
Book a sustainable hotel
With an increasing number of LEED-certified hotels in the District, find a spot with environmentally friendly practices and amenities. The Motto by Hilton is a LEED Silver-certified hotel in the heart of Chinatown. While there, you will find refillable water stations throughout the hotel, a vegetated roof area for hosting events and smart LED lighting and air conditioning with infrared sensors that auto-shut when you are not in the room. The newly opened Eaton Hotel is another unique sustainable option. The LEED Gold-certified property features natural and organic mattresses, along with 100 percent natural bathroom amenities. The extensive rooftop houses an herb garden and wind turbine, while the cuisine at chef Tim Ma's restaurant, American Son, is mindfully sourced, featuring organic meats and vegetable towers.
03
Walk or bike to navigate the city
Walking and biking are among the greenest options and give you the advantage of immersing yourself in the arts and culture of the city, exploring more neighborhoods and passing through beautiful sustainable gardens such as the U.S. Botanic Garden's renovated Bartholdi Park. The region's residents take advantage of these methods too, as 58 percent of commuter trips in DC are by bike, walking or public transit, according to Buildings Magazine. Washington, DC was the first city in North America to launch a bikeshare system, which now has more than 4,000 bikes and 500 stations. Capital Bikeshare is one of the most popular ways to get around, with a single trip costing only $2 and a 24-hour pass for $8. The first 30 minutes of each trip is free, with a fee for each additional half hour. Visitors can easily get and return a bike at one of hundreds of stations.
04
Seek eco-friendly tours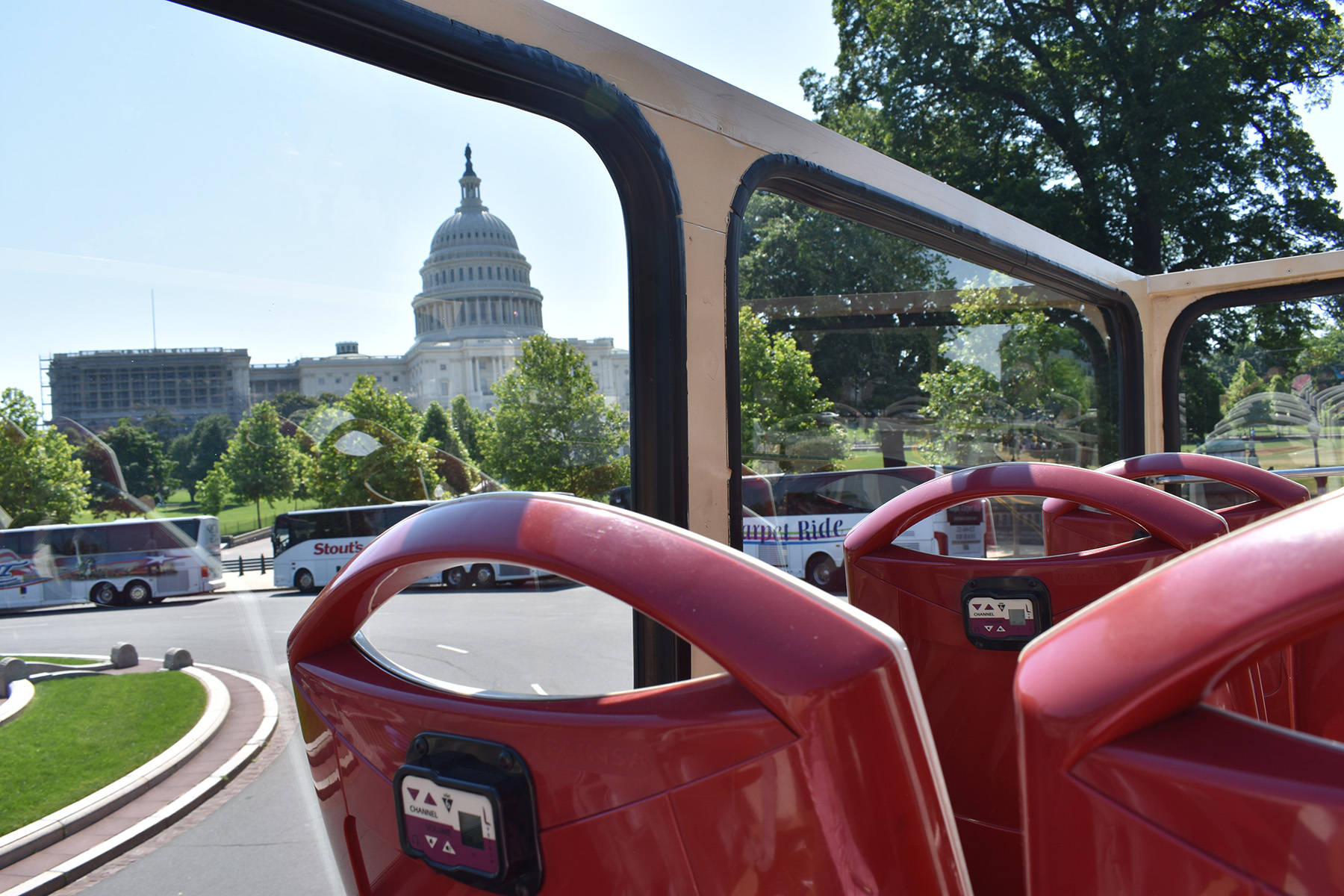 Washington, DC has plenty of options for tour guide services that value the environment. With the largest inventory of rental bikes in DC, Unlimited Biking allows locals and tourists of all ages to explore the city by day or night. Unlimited Biking offers various tours from "Capital Sites" and "Monuments at Night" to seasonal offerings such as "Blossoms by Bike" and "Christmas on Wheels." If biking isn't your thing, check out Big Bus, known for sustainable practices, including 10 percent of the company buses being zero emissions or all-electric vehicles, improving the air quality in the city.
05
Participate in a sustainable volunteer project
There are many ways to decrease your carbon footprint and volunteer with others during your time in the District to help protect our beautiful ecosystems. Serve DC is a government agency that is part of the Mayor's Office on Volunteerism and offers volunteer opportunities including neighborhood clean-ups, pop-up markets to increase access to fresh, local food and more. Restore and enhance the trees through the nation's capital with Casey Trees, a non-profit that plants over 3,000 trees across all eight wards in the city every year. Get your hands dirty and the rivers clean with Potomac Conservancy. Look out for trash and river cleanups from Fletcher's Cove to Theodore Roosevelt Island. Rock Creek Conservancy offers outdoor volunteer activities, such as trash cleanup or invasive plant removal, suitable for the whole family.
06
Eat local
There are plenty of restaurants throughout the District that are good for the planet, and good for you too. Chaia, with two locations in Georgetown and Chinatown, brings its "farm-to-taco" philosophy to seasonal vegetarian tacos. A Baked Joint is a short walk from attractions such as the National Portrait Gallery and features local and organic produce, as well fresh bread made on site. Head to NoMa where you can explore Union Market's 40+ local vendors, including everything from locally-produced kombucha at Craft Kombucha to 100 percent plant-based Israeli street food from Shouk. Discover even more delicious farm-to-table restaurants in DC.